About Dean Fisher
Dean Fisher studied at the America Academy of Art in Chicago, and since, has been exhibiting nationally and internationally in prominent galleries for more than twenty five years.
He has shown in galleries such as; Hirschl & Adler modern NYC, The Tatistcheff Gallery NYC, J. Cacciola Gallery NYC, Prographica Drawings Gallery in Seattle, WA and Susan Calloway Fine Art in Washington, DC.
After living in Spain, France and England for eight years and making master copies as a form of study at The Prado museum, The Louvre and the National Gallery of Art. Dean returned to the US and has been living in Connecticut with his wife, the artist Josephine Robinson.
His paintings hang in many private and corporate art collection in the US and Europe.
Dean has been teaching painting at Silvermine Art Center in New Canaan, Connecticut and privately for the past fourteen years.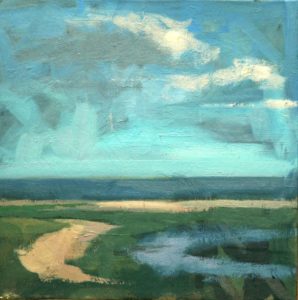 Links about Dean Fisher
About the Workshop
I prefer a relatively small group that allows more time for one-on-one instruction throughout each day. My previous course in France included ten students during each of the two weeks. The focus of this course is on perceptual painting.
The objective is to record with great sensitivity the qualities of light and atmosphere which are present through capturing precise color and tonal relationships…I firmly believe that the best way of teaching and learning these skills is to work from life…at least for the first 10-15 years of an artist's development.
I discuss all the mechanics of representational painting; i.e. drawing, perspective, form, light, space, color, color harmony…and there is a great emphasis on composition and discovering a personal vision.
I greatly encourage my students to discover their personal way of looking at the world and to avoid painting the "cliche landscape" which is so prevalent in the world of landscape painting today.
I approach composition in a very abstract way, working with he student to help them look at nature as a mosaic of form, color and shape.
There is a strong emphasis on developing compositions via the thumbnail sketch, which I think is the best and most efficient means to distill what the student finds compelling about the subject at hand.
Each day of the course will be structured as follows; I give a presentation in the morning beginning at 9am, always with a different focus, showing visual examples of former and present masters and then I often follow it with a painting demonstration which usually lasts for 45 minutes to an hour. Then all the students go out and find their painting spots and I spend the next 6-7 hours going from student to student and give them individual instruction. I feel this kind of personalized instruction produces the best results as each student is at a different level and is grappling with her/his own set of painting issues.
Then at the end of the day about 6-6:30pm, over drinks and appetizers we have a group critique before dinner. This is extremely productive because it always generates a constructive group conversation about the work.